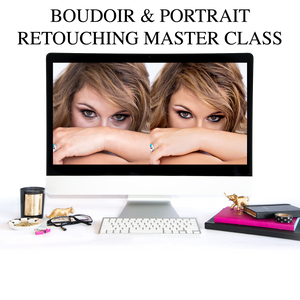 **In honor of Megan Hamilton's legacy, all sales proceeds will indefinitely go to the Hamilton family.**

A complete step by step online class with Retouching Extraordinaire, Megan Hamilton! She gives you the Perfect Portrait Workflow to creating finalized pieces of art that make you stand out in the crowd as a photographer. 

Go at your own pace through the step by step video tutorials and refer back to them anytime you wish with Lifetime Access. 

Learn the 20% in Photoshop that will give you 80% of the results. No photoshop experience necessary. This course is for both beginners and seasoned pros looking to become more efficient in their workflow and create artwork that makes them stand out in the crowd.

Learn the Art of Skin Retouching to keep the integrity of the skin and keep the client looking like themselves, but just with a beautiful glow. An absolute must have Skill for Boudoir & Portrait Photographers. 
Course Outline: 


Video 1:
Culling Your Shoot & Initial Adjustments in Lightroom
Video 2:
Eliminating Background Distractions 
Video 3:
The Art Of Skin Retouching - Stretchmarks, Cellulite, Scars, etc
Video 4:
The Art Of Skin Retouching - Color Correction, Tan Lines, etc.
Video 5:
The Art Of Skin Retouching - Face Blemishes & Stray Hairs
Video 6: The Art Of Skin Retouching - Face Wrinkles & Under Eye Circles
Video 7:
The Art Of Skin Retouching - The Final Glow 
Video 8: Creating Depth & Color
Video 9: Signature Color Toning
Video 10: Eye Sparkle & Teeth Whitening
Video 11:
Liquify, Sharpen, & Polish 
BONUS VIDEO 1:
Retouching The Bottom Of Shoes (For Boudoir Photogs)
BONUS VIDEO 2:
Cover Girl Hair
BONUS VIDEO 3:
Nail Polish Color Change
BONUS DOWNLOAD:
The Perfect Portrait Workflow Checklist you can easily reference and use while retouching to make sure you don't miss any steps!